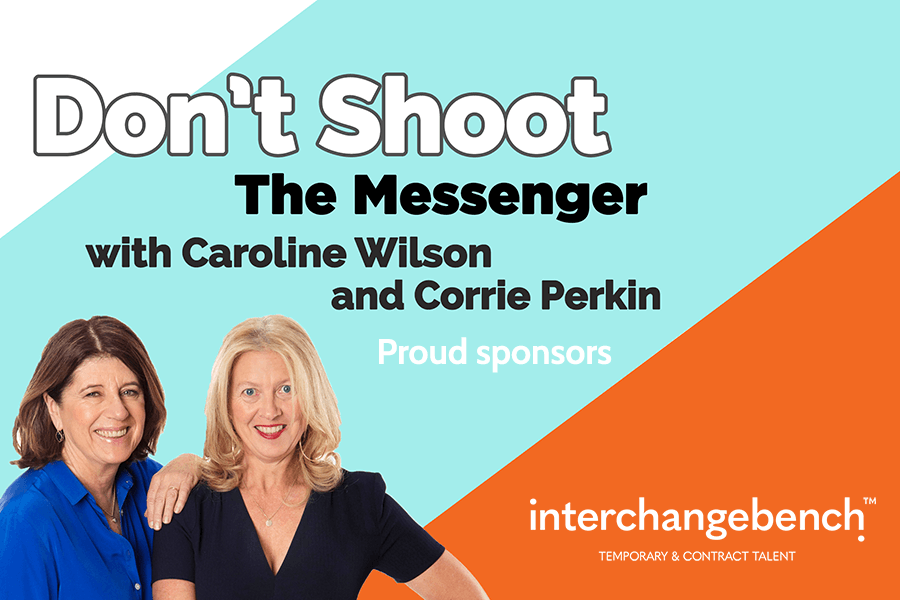 What is it about podcasts that have captured our collective earbuds? Have you noticed how at some point the watercooler chat moved from TV's Better Call Saul to the LA Times' Dirty John podcast? Perhaps it's because podcasts are the better versions of the internet, screen, radio and TV that they're experiencing the highest growth of all media. The latest figures (ABC 2017) show that 89% of us are aware of podcasts and 30% of us listened to at least one in the last month. And if we're anything like the US, annual audiences are growing at a double digit rate.
We're proud to make a shout out for our own sponsorship of the highly engaging Don't Shoot the Messenger podcast.  The Interchange Bench, which specialises in temporary and contract talent for all reasons and seasons sees Don't Shoot the Messenger as the perfect podcast partner.  Quite apart from the tremendous content, it has an AB demographic: an audience of professionals and hiring decision-makers, many of whom will consider professional contract roles at some stage in their careers.
Caroline Wilson and Corrie Perkin, the co-hosts of Don't Shoot the Messenger, talk about everything from footy to politics, dubious characters, food, films and books, family and business are all covered in an hour, and seemingly, not much is off limits.
We could have pursued a partnership with a related HR, leadership and recruitment podcast but we're firmly in the 'Love Work, Love Life' camp and believe life outside the office, the lecture theatre or operating theatre, the building site or science lab is just as important for a balanced life. (And this month, especially outside the chambers of Parliament House!)
Of course if you are interested in HR and Hiring podcasts, give these a shot: Engaging Leader, hosted by Jesse Lahey; The Go-Giver, hosted by Bob Burg; Leadership and Loyalty, hosted by Dov Baron; HR Happy Hour by Steve Boese and Trish McFarlane.  We think they're great.
So back to the original question – why the shift to podcasts?
You may have your own reasons, here are five reasons why they're a 21st Century thing:
We're commuters: Walking, public transport or cars are all conducive to podcast listening.
We choose: 1000 topics, 1000 interests. Just like having the State Library on your iPhone.
Production quality:  Beautifully crafted stories, sophisticated discussions and documentaries.
Independent media: Consolidation and decimation of some media has been matched by the growth of the intelligent green shoot podcast.
Long form:  There's been a shift from the 10 second sound grab, to a demand for deep dive discussions into topics of interest.
Listen to Don't Shoot the Messenger now or subscribe through Apple Podcasts and let us know what you think!