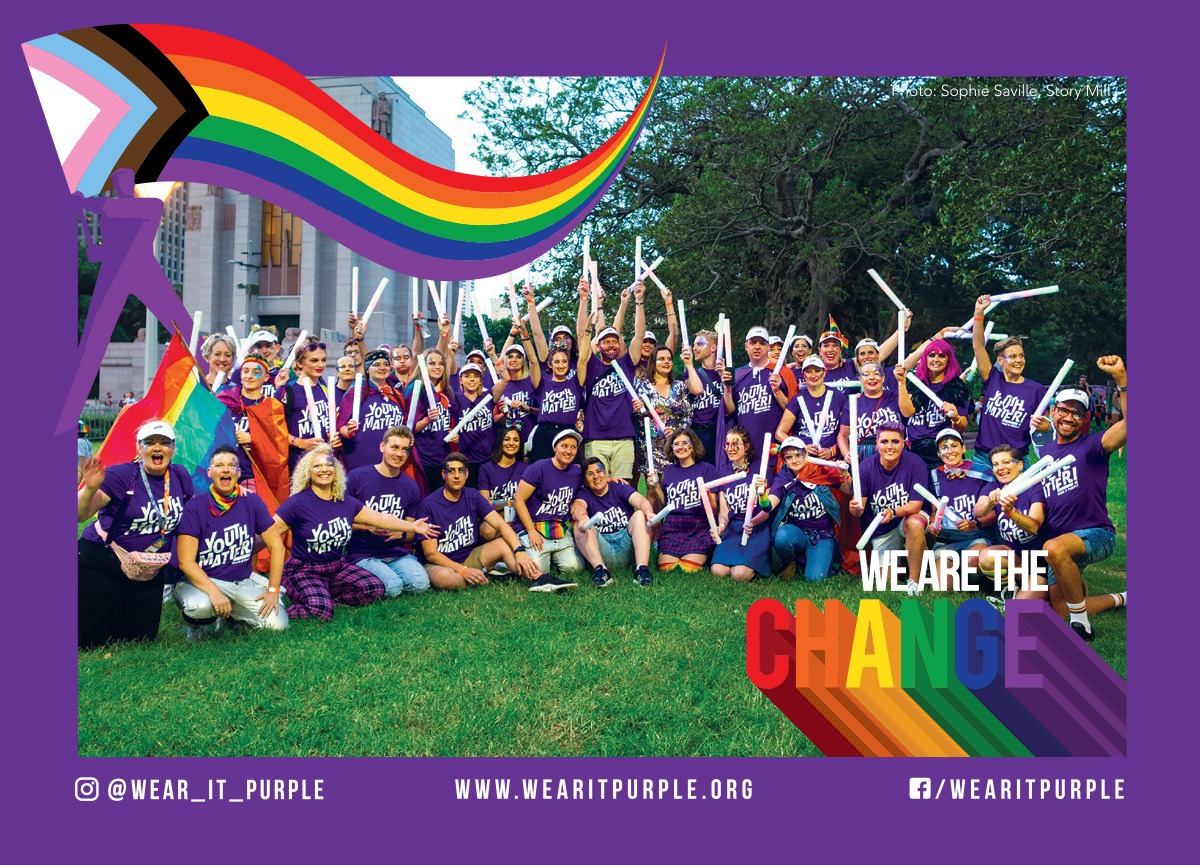 August 26, 2020
No Comments
The theme for this year's Wear It Purple Day, to be held on 28th August is: 'We are the Change'.  Beginning in 2010 as a youth response to global stories of bullying, harassment and suicides of rainbow young people, Wear It Purple Day has since transformed into an international movement celebrating rainbow young people and a mainstay in the D&I calendars of leading practice employers.
With 2020 marking ten years of Wear It Purple, co-founder Katherine Hudson shared with DCA her perspectives on achievements to date, current and future priorities and how organisations can play a leading role in creating LGBTIQ+ inclusive workplaces.
While no longer involved in the day to day work, with Wear it Purple Day now run by the next generation, Katherine remains passionate about the importance of visually showing solidarity on this day: "If you come from a family, area or school, which is not accepting, but you know that other people in your environment think you're okay – that can make so much of a difference to young people feeling accepted."
Despite great shifts in community attitudes in recent years, Katherine explains that LGBTIQ+ young people remain at increased risk of mental illness and suicidal ideation, particularly under current pandemic conditions that create distress through directives to stay home in an environment that might not feel safe.
"I've heard many stories of particularly trans and non-binary members of the rainbow alphabet who are back home and those daily microaggressions like not being called by the pronouns that they use, by the name that they've adopted that represents their gender identity more correctly."
Organisations can make a significant difference to rainbow youth mental health and wellbeing through creating inclusive and accepting workplace cultures. Says Katherine, "If we're talking about gender and sexuality, it's about how do we make an environment so that it doesn't matter what gender you are, but at the same time we celebrate and accept your gender."
But for genuine inclusion to occur, Katherine believes a whole organisation focus that avoids, in her words, 'the liquorice all sorts' effect – separate layers of diversity that are not cohesive or co-operative, is key.
Some positive actions she advocates include hiring practices that reduce biases, LGBTIQ+ awareness training, educating on respectful and appropriate language, and enabling all employees to share their perspectives, rather than just providing opportunities that privilege the dominant group.
In terms of overall progress on rainbow youth inclusion, Katherine credits Gen Z with lighting the way: "I was in a suburban Coles and I heard this girl who would have been about 15 years old. And it became very clear from overhearing that she's out at school and dating and she's loudly discussing what flowers to get her girlfriend. The only attitude from others I noticed was, 'Oh, typical teenager – so loud!'."
Ultimately, it's the everyday acceptance of Wear it Purple Day that Katherine is most proud of: "I can walk down the street on Wear it Purple Day and see teenagers in purple and they have no idea who I am, and I'll say 'Happy Wear it Purple Day' to them, and they say it back. And I just keep walking. No one's threatening you. Everyone's embracing you. That's what I'm proud of from this movement."
Support Wear it Purple Day this 28th August and celebrate the inclusion of LGBTIQ+ diversity within your workplace and community.
Resources
For more information on LGBTIQ+ inclusion in the workplace check out the following DCA resources:
If you or someone you know is struggling or having a hard time please reach out to the following organisations for help:
Lifeline Australia: Free 24-hour telephone crisis support such as suicide prevention, mental health support and emotional assistance.
QLife: Free Australia-wide anonymous, LGBTI peer support and referral for people wanting to talk about a range of issues including sexuality, identity, gender, bodies, feelings or relationships.
Beyond Blue: Mental health and wellbeing support to address issues related to depression, suicide, anxiety disorders and other related mental illnesses.